It is the goal of Verita International School to provide a strong university preparatory experience from which each student will develop a personal commitment to learning, a respect for independent thinking, and an expanding curiosity about themselves and the world around them.  In this new world, we consider certain skills to be essential for our students to be successful with a global, integrated perspective: to read well, to write clearly, to think critically, to reason soundly, and to question thoughtfully.
With our inquiry-based educational curriculum and our social-emotional ethical process, Verita promotes self-esteem, self-knowledge, and respect for the ideas, opinions, and values of others. We believe that education is not a race for the accumulation of facts, but an adventure of self-discovery, self-fulfillment, and self-enrichment.
The National Curriculum of England & Wales is an organizational framework that provides a set of subjects and standards used by primary and secondary schools. The curriculum covers what subjects are taught and the standards children should reach in each subject by age. The National Curriculum of England & Wales is one of the oldest, most respected and rigorous curriculums in Europe. Verita follows the National Curriculum of England & Wales as its guiding document. The curriculum begins as early as age two and progresses through to the highly respected IGCSE qualifications. 
Students can then choose to continue with either the International Baccalaureate (IB) Diploma Program or the Greek National PanHellenic Exams. We believe the National Curriculum, in combination with an International Baccalaureate diploma, provides our students with a global educational passport by enriching them with the knowledge and skills to continue their studies in any academic program worldwide.
FIELDWORK EDUCATION (IEYC/IPC/IMYC)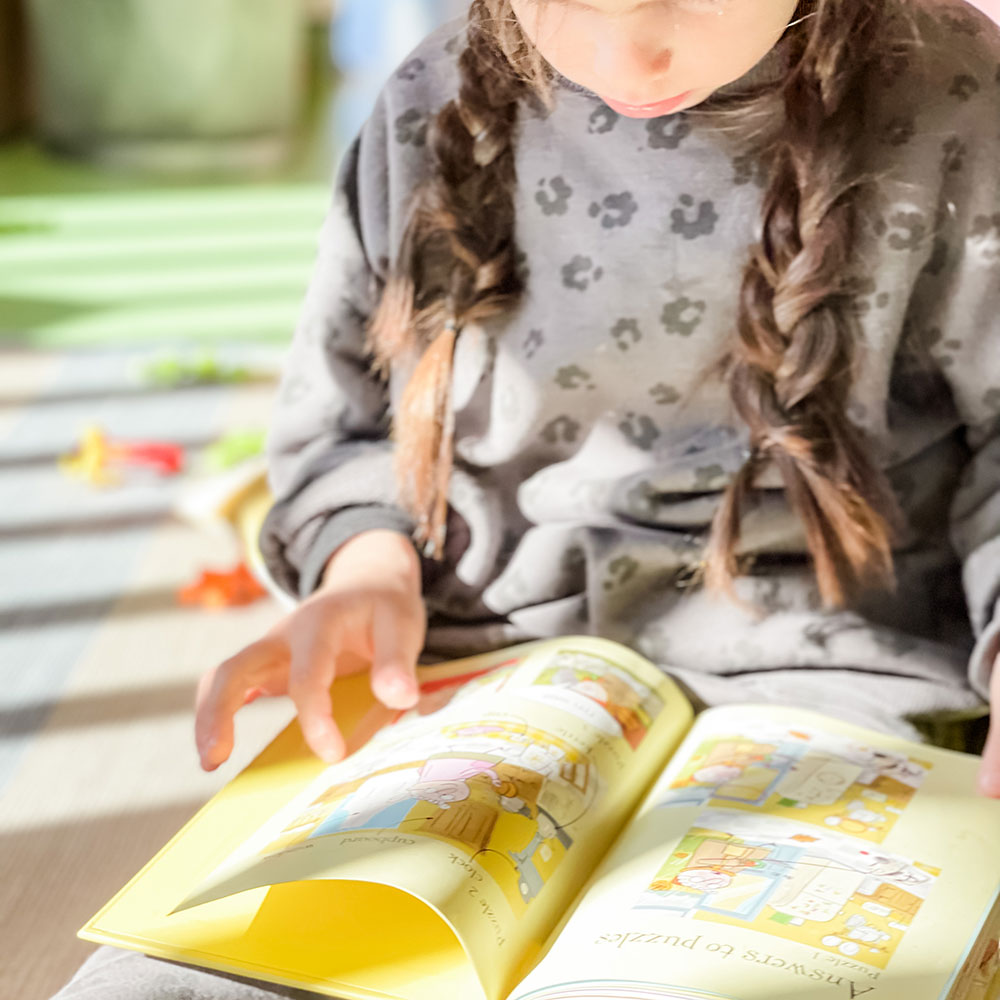 Fieldwork Education has a rich history as a leading innovator in international education. As the fastest-growing independent curriculum in the world, the Fieldworks curriculums are relevant, practical and research-driven to provide students with the knowledge, tools, and practical experience they'll need to be successful in higher education and beyond.
Designed to be combined with the National Curriculum of England and Wales, Fieldwork Education offers a wide range of educational units, all shaped around the unique developmental needs of each age group with the aim to strengthen children's practical, interdisciplinary, and critical thinking.  More than simply a set of resources, the curriculum is a philosophical, pedagogical program that supports Verita in delivering a broader and more rigorous all-around learning experience. 
EMOTIONAL ETHICAL LEARNING
We consider social emotional ethical learning (SEE) to be one of the foundational pillars at Verita, We begin cultivating practices to build and enhance social awareness and emotional well-being beginning in our EYFS Nursery School and continuing through graduation.
We integrate Emory University's SEE program throughout our curriculum to ensure that our students' emotional well-being becomes as much a priority as our academic curriculum. It is the integration of our academics with social emotional wisdom that provides our students with the maturity and ability to lead lives of well-being, no matter what the future holds.
Our SEE program helps students develop an integrated learning process, social skills and strategies for resilience, and a deep understanding of self.  Students cultivate the tools for emotional self-regulation and cognitive strategies that foster healthy, empowering minds.
Through the integration of our academic mastery program and our social emotional learning program, Verita offers our students a new paradigm of self-mastery that builds and sustains wellness and wisdom for a lifetime.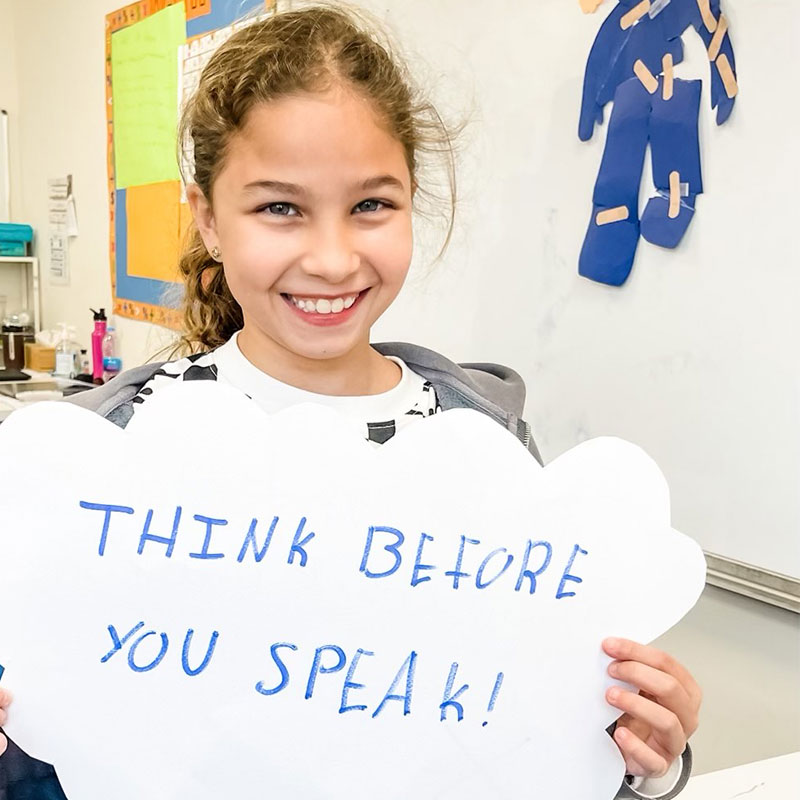 Inquiry and Project-Based Learning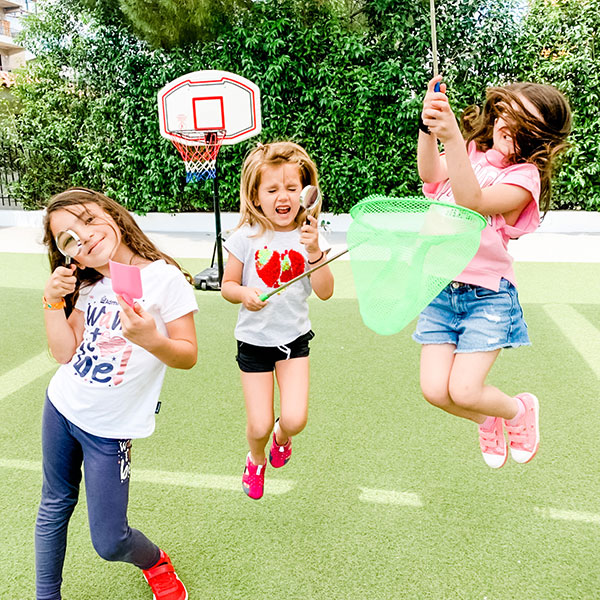 Inquiry-based learning is an approach to education that engages students by asking questions, reaching for answers, making bigger-picture connections, reflecting on learning, and taking action. We use the Fieldwork Educations units of learning to guide students through an inquiry process that takes them on a journey from the unknown to the new.
Inquiry-based and project-based learning provide a collective experience of doing, creating, building, exploring, and investigating. Through inquiry-based projects, students learn to manage time and activities efficiently, share information effectively, and take responsibility for the production and the presentation of their learning. 
Working with an inquiry-based approach, students understand and value learning as a dynamic process of connections and context. When engaged, challenged, and empowered by their academic curiosity, students move through the learning process with enthusiasm and wonder.
We must empower students to become changemakers and recognize the interconnectedness of our way of life and life on this planet.
 Our Service Learning program has been designed to introduce students to a deeper and broader understanding of the world around them. Verita promotes service learning by helping students understand their responsibilities to the global community. Through participation in thoughtfully-organized local experiences, students are able to recognize and understand their capacity to be impactful in meeting the actual needs of the community. 
Verita uses service learning to explore activities that meet meaningful social justice aims. The students' active involvement in real-life situations places them in an ideal position to make sense of the larger historical, cultural, and political contexts of the social problems they are addressing. When our students learn to look at current and historical events – even their own actions – through the lens of social justice, they can begin to relate to the ideas of fairness, equity, and inclusion. Students learn to become wiser, empathetic citizens of a true global community.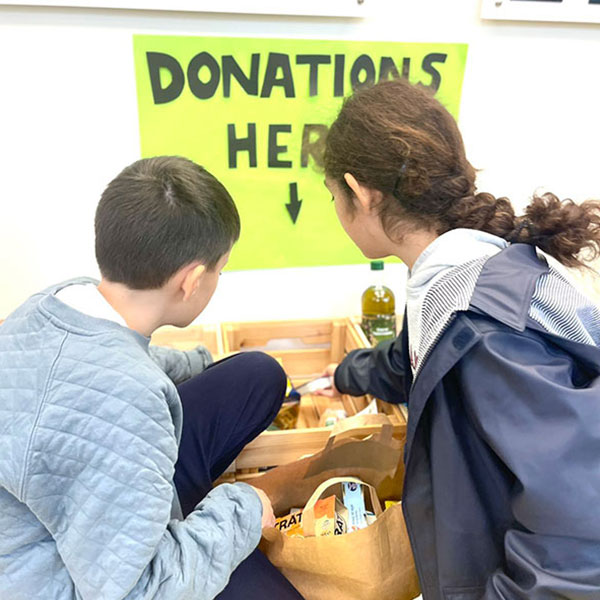 This concept of Social Justice frames all of our equity and inclusion work at Verita  as we seek to make the changes—individual, institutional, and ideological—we need to fully embody Dr. King's vision of a world "tied together in the single garment of destiny, caught in an inescapable network of mutuality." 
Recognizing the profound ways in which we are all  interconnected also requires us to examine the ways we can recognize, mediate, and eradicate perpetuation of multiple systems of oppression. This examination of ourselves is both painful and powerful as we peel back the layers of pedagogy, practice, systems, and structures that have enabled some students to thrive and other students to struggle. That struggle manifests in multiple ways—from a sense of isolation to not seeing oneself reflected in the curriculum to microaggressions and outright discrimination—and is deeply impactful on the social, emotional, and psychological health of our students and faculty of all reaces, cultures and etinicity.
As we continue on this path and process of quantitative and qualitative change, we find ourselves grappling with profound questions of purpose and praxis; how do we create an abiding sense of belonging for every member of our community?
Technology is a powerful tool, when used wisely and productively.  Technology allows students to access information, learn about the world around them, and expand their knowledge independently. 
Students are given the opportunity to use technology in order to develop an understanding of its functionality, its capabilities and explore the richness of the universe. VIS students use technology to create, learn, and research, and not to passively entertain.
While technology and the internet connect us like never before, we understand the social and emotional impact it can have when not managed appropriately.  The success of technology depends on how it's being used in the classroom. Technology can be incredibly isolating, and a distraction from engaging with those around us. We teach our students how to safely, responsibly, and mindfully use technology to navigate the digital world.
At Verita, we recognize the value of creative expression for the healthy development of the individual and the well-being of society. Music and arts programs preserve cultural heritage and traditions by teaching students the history and significance of different musical styles and art forms. Music and arts programs bring communities together by bridging the socioeconomic and cultural gap, providing opportunities for people to connect and participate in shared experiences. Music and arts help cultivate and reinforce the cognitive and emotional development of students by providing a safe space to be open, exposed and freely expressed.
Verita understands that music and arts programs play a vital role in shaping society by providing students with opportunities to develop essential life skills, deepen their cultural understanding, and contribute to their communities in meaningful ways.
Performing, creating, and responding to music are the fundamental music processes in which humans engage. Students learn by doing. Singing, playing instruments, moving to music, and creating music enable them to acquire musical skills and knowledge that can be developed in no other way. 
Learning to read and notate music gives students a skill with which to explore music independently and with others. Listening to, analysing, and evaluating music are important building blocks of musical learning. To participate fully in a diverse, global society, students must understand their own historical and cultural heritage and those of others within their communities and beyond. Because music is a fundamental expression of human culture, every student at Verita is provided with an opportunity for a balanced, comprehensive, and sequential program of study in music.
The arts program introduces an important dimension to the educational program at our schools. Arts education draws upon personal feelings and experience as well as logical and intellectual thought. The Verita arts program ensures the development of the whole person, expanding the world of ideas and self-expression. In these classes, students learn how people from all cultures and times have expressed their dreams, fantasies and realities using Virtual Media to communicate their own ideas and emotions.
Supported by our professionally trained art teachers, the unique curriculum—introducing and reinforcing concepts and various artistic processes gives students a solid foundation in drawing, painting, and sculpture techniques. 
Students learn the concepts and principles of colour, shape, form, line, texture, and pattern. They use a variety of media and materials as appropriate for their grade level. The "caring" art environment fosters free thinking, risk-taking, inspiration, and critique. Students are introduced to artists and artwork that connect to the themes of family, community, culture and periods. Students learn to experiment, collaborate and discover their unique personal style and form and are invited to create and develop art that is limited only by their imaginations.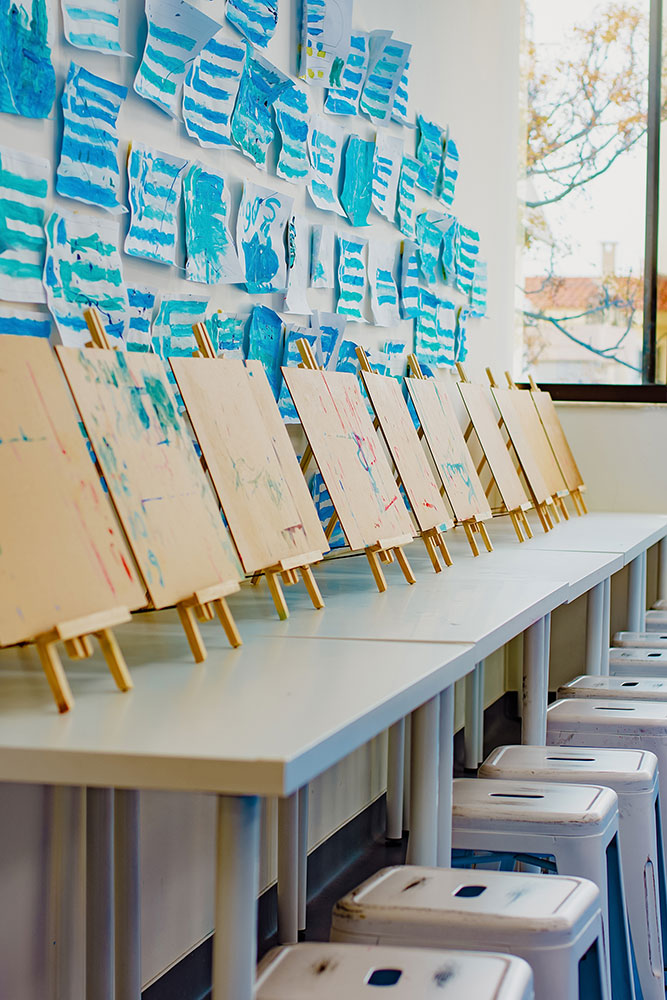 At Verita we believe that language is the foundation for all learning. 
The school's student population is multinational, representing approximately 35 nationalities and languages. The diversity and the multiple languages of students at Verita is an accurate representation of the greater world we live in. Globalization and remote work is bringing global communities together across borders at a speed we have never seen before.
The Language Program at Verita supports our students from around the world. 
We accommodate global language learning for children as young as 30 months and continue with a rich and diverse program through graduation at 18 years old.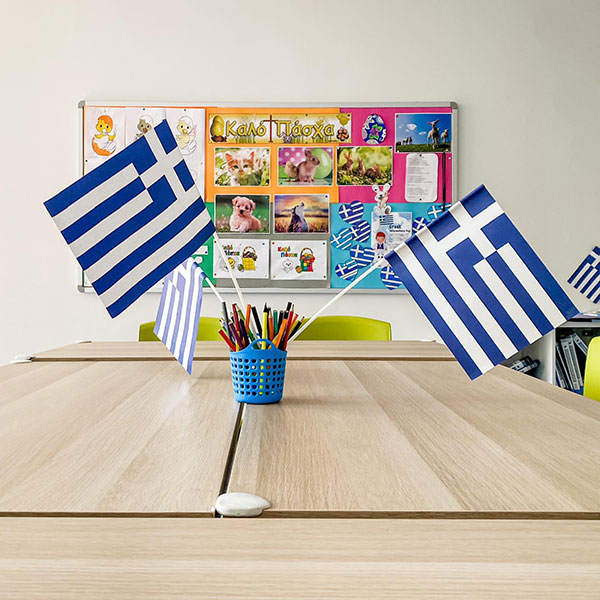 Students at Verita have an opportunity to participate in daily Greek lessons as part of our language curriculum. Our local language teachers follow the Ministry of Education's Greek Language Curriculum for beginner, intermediate and advanced learners.
As  part of the Greek language learning experience, students will be introduced to the rich history, culture and mythology of Greece, including participating in Greek holidays and traditions.
The Greek language curriculum at Verita is part of the daily program, as well as an optional after-school class. Students who develop a mastery of the Greek language have the opportunity to take part in the Greek Language Proficiency Exams. 
Our languages program is designed to support and represent the multicultural diversity of the student population. Verita offers third language instruction in French, Spanish, and Chinese. The language programs offered are re-evaluated annually in order to support the cultural and linguistic needs of students.
Our comprehensive language program delivers high-level instruction to teach reading, writing, and communication skills in the chosen language, and also includes a strong cultural component where key holidays and festivals are celebrated.
Students have the option of enrolling in a foreign language in Year 4. 
International English Language Learner (ELL)
The Verita English Language Learner (ELL) program is designed for students who do not have a grade-level proficiency of the English language. Students are either fully integrated into the classroom while supported by dedicated ELL experts or participate in a pull-out ELL class instead of the Greek Language Program. Our objective is to develop the ELL students' communicative competence in English to a level that will allow them to function on a peer group level academically, socially and culturally. The program is typically successful at integrating children into the classroom without further ELL support after 3-6 months.